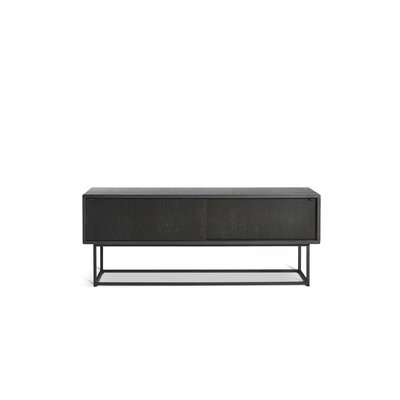 Size:
L 120 x D 40 x H 47 cm
Røpke Design & MOAKK
::
Virka is an elegant and timeless sideboard. The sideboard is designed with sliding doors, so it will never take up unnecessary space in your room. Thanks to the geometrical frame Virka almost seems to float. The low version is ideal for your tv set.
Inside the Virka sideboard there is one adjustable shelf on each side with space to let cables pass and go out through the cutouts in each back board. All models come with a detachable black powder coated leg frame. Carcass: black painted oak or soap treated oak. Doors: black painted oak & soap treated oak veneer or entirely in soap treated oak veneer or black painted veneer.
Designed by Røpke Design & Mark Wedel.
About the designers: "Clean lines and functionality have always been two drawing factors for us. Having studied the same line of design, in the same class, working on the same projects with the same ideas, we have always kept one focal point of attention in our design - the consumer."