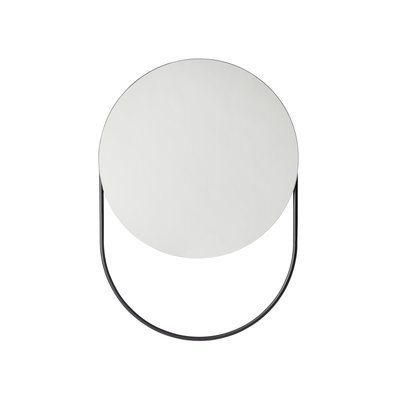 Availability
made to order
Rikke Frost
::
Verde Mirror is versatile in its functions and is intended for all kinds of rooms. The mirror is designed with inspiration from metal furniture from the 1950s, focusing on simple shapes in combination with a functional perspective.
Behind the mirror is a shelf that provides space for plants or other small objects that could come in handy. Two small cut outs in the shelf allows to hang clothes on a hanger on each side of the mirror.
One last detail is the frame of the mirror that functions as a third arm. It can be used to hang everyday objects you should remember to take with you before you walk out of the door.
Diameter
600 mm
 
Height
850 mm
 
Width/Depth
110 mm
 
 
 
Says the designer, "I am often fascinated by a material or method for production. Through the combination of materials and utilisation of qualities, I add the design a natural applicability. I create designs that should be seen, felt and touched. The idiom is recognisable and simple with focus on colours, details and functions to give a sense of a solid design"