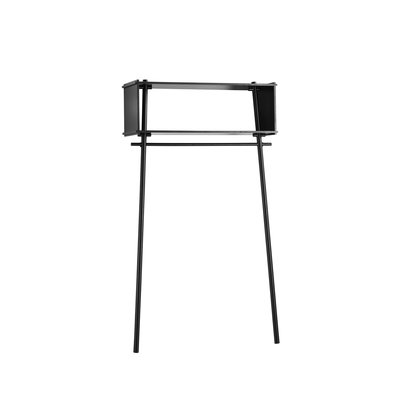 Made by Michael
::
Töjbox is a simple and functional wardrobe made from oak wood. The wardrobe is a perfect match in your entrance, bedroom or walk-in closet. Use it to hang your shirts and jackets on the clothes rack and store your everyday belongings in the box.
There are no screws, nails or glue to keep the construction together, just pure wood. Töjbox is easy to assemble and put to use. You just have to lean it against the wall. At first sight, the design provokes with its simple and light construction – but nothing about Töjbox is random. It is the little details that give Töjbox its character.

Töjbox is made in oak veneered plywood with solid oak legs.
About the designer
Made by Michael is a design studio founded by Michael Daae Christensen with the aim of carrying on the Scandinavian design traditions of quality and long-lasting products. The characteristics of the design studio are the focus on functionality and simplicity with a special awareness on sustainability. Made by Michael's preferred material is wood – as part of his approach to sustainability, Michael experiments with different joint methods and having a constant focus on production, manufacturing and packaging. The goal of the design made by Michael is to leave the viewer with a little 'Aha' moment of childish wonder and joy.