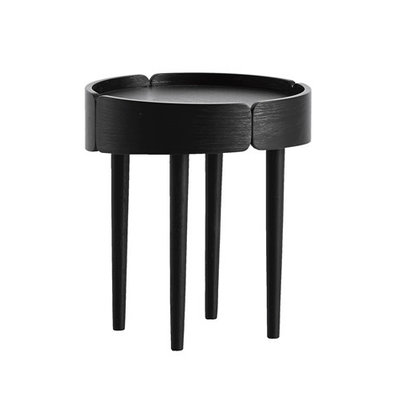 Mikko Laakkonen
::
The Skirt side table is characterised by its graphic lines and diagonal cut. The elegant wooden hem is designed to conceal the legs and creates a vivid expression.
Design by the Finnish desiger Mikko Laakkonen.
Mikko Laakkonen was born in Espoo in 1974. After graduating as a musical instrument maker, he studied furniture design at Kymenlaakso University of Applied Sciences, and later received his Masters degree from the University of Art and Design in Helsinki. After working in design and architecture firms for several years, Mikko founded Studio Mikko Laakkonen in 2004.
The Studio offers product design services, with the main focus on everyday items. Mikko's designs have been on display in several exhibitions around Europe, the United States, China and Japan. In 2016 Studio Laakkonen has expanded working in the fields of interior design and art direction consulting. This extension was founded to create more holistic solutions and respond better for clients requests.