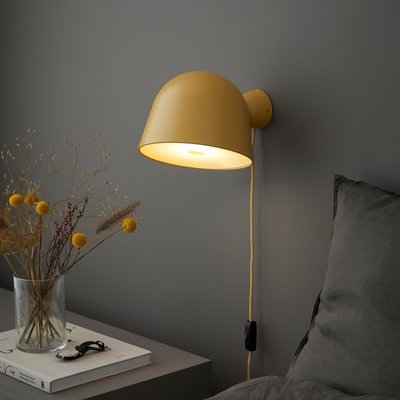 Mika Tolvanen
::
The Kuppi wall light has been revamped while staying true to the original design from 2014.
Kuppi means 'cup' in Finnish, which is reflected in the design of the two, different sized cups. The construction allows for easy movement and adjustment of the light, which makes Kuppi ideal as a bedside lamp or in the reading corner. The simple design makes it a minimalistic and sculptural lamp.
Black or mustard yellow painted metal, E14, Max 25W.
About the designer Mika Tolvanen:
Mika Tolvanen is a Finnish designer who started his own practice after graduating from the Royal College of Art in London. He designs furniture, lighting and different types of interior decorating products. Mika explains his design as function-oriented: "My products are for use but this does not mean that they cannot be beautiful. I do not have a dogma but I believe that good design stems from comprehension of materials and a desire to improve how they work. An object can have a complex range of functions but it should not be complicated".