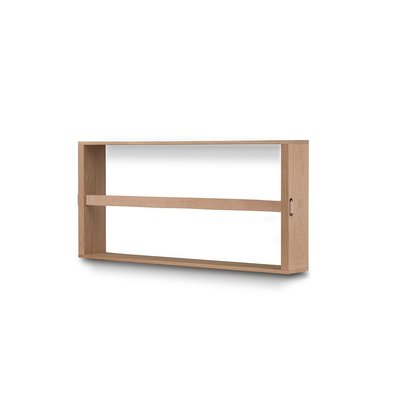 Size:
W 75 x D 10 x H 35 cm
Finishes:
100% FSC oak, leather, brass
Ditte Buus Nielsen
::
The Norr magazine holder combines functionality and aesthetics, as you can revitalize magazines, small decorations and books by arranging and displaying them on the wall.
A leather ribbon is connecting the inside of the frame in untreated oak and holds the displayed items closely together until next time you need them. The ribbon is held in place by small brass buckles. A nice detail.
Ditte Buus Nielsen has an MSc in industrial design from Aalborg University, and her whole life she has loved developing ideas and creating things. Along with the functional aspect, simple expressions that are drafted on paper and translated into miniature mock-ups are what trigger Ditte's creative mind. Wood and metal are some of Ditte Buus Nielsen's preferred materials, and the subtle designer has a practical approach to her profession that is firmly rooted in rational factors and holistic processes with everyday life and design history as two parallel paradigms and key sources of inspiration – along with the ambition of one day designing the perfect chair.
Bewaren
Bewaren
Bewaren
Bewaren
Bewaren
Bewaren
Bewaren
Bewaren
Bewaren
Bewaren
Bewaren
Bewaren
Bewaren
Bewaren
Bewaren
Bewaren
Bewaren
Bewaren
Bewaren
Bewaren
Bewaren
Bewaren
Bewaren
Bewaren
Bewaren
Bewaren
Bewaren
Bewaren
Bewaren
Bewaren
Bewaren
Bewaren
Bewaren
Bewaren
Bewaren
Bewaren
Bewaren
Bewaren
Bewaren
Bewaren
Bewaren
Bewaren
Bewaren
Bewaren
Bewaren
Bewaren
Bewaren
Bewaren
Bewaren
Bewaren
Bewaren
Bewaren
Bewaren
Bewaren
Bewaren
Bewaren
Bewaren
Bewaren
Bewaren
Bewaren
Bewaren
Bewaren
Bewaren
Bewaren
Bewaren
Bewaren
Bewaren
Bewaren
Bewaren
Bewaren
Bewaren
Bewaren
Bewaren
Bewaren