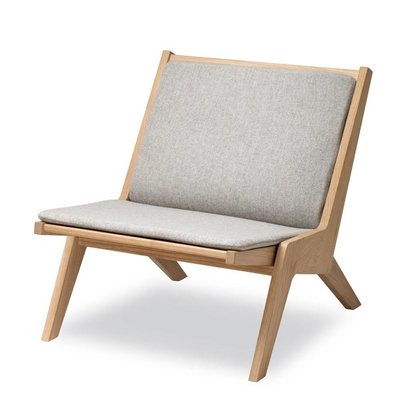 Dimensions:
W 67 x D 74,5 x H 70 cm
Herman Studio
::
Miskito chair is inspired by the Middle American aesthetics, atmosphere and craftsmanship – and the name itself refers to a Spanish dialect used in the rainforest of Nicaragua. However, the design is kept clean in a Scandinavian fashion.
The cushion is held in place with a small wooden stick behind the backrest.Since the lounge chair is foldable you can easily bring it with you outside when the weather allows it or put it away when you need more space. Miskito's low sitting height and width adds a feeling of groundedness when seated. Made of 100% FSC Oak, upholstery in Kvadrat Remix2.
Herman Studio consists of the two designers, Helle Herman Mortensen and Jonas Herman Pedersen. Helle has a master in industrial design from Aalborg University and Jonas has a background from the School of Architecture in Aarhus, where he was educated in Furniture and Space in 2010. Jonas has also a solid experience with craftsmanship from collaborating with different workshops, which gives him a great understanding of the hands-on manufacturing processes.
 
Herman Studio works in an iterative design process between sketches, models and prototypes. Combining these elements brings forth inspiration, creativity and great dynamics, that helps them in their development of new projects. Their workshop has therefore grown a natural part of the studio. Contrasts bring originality. And especially the contrast between the masculine and feminine expression is reflected in the work of Herman Studio. A contrast that creates synergy between the elegant and the powerful. They believe in a holistic approach, which is necessary to ensure a durable and functional design.
Bewaren
Bewaren
Bewaren
Bewaren
Bewaren
Bewaren
Bewaren
Bewaren
Bewaren
Bewaren
Bewaren
Bewaren
Bewaren
Bewaren
Bewaren
Bewaren
Bewaren
Bewaren
Bewaren
Bewaren
Bewaren
Bewaren
Bewaren
Bewaren
Bewaren
Bewaren
Bewaren
Bewaren
Bewaren
Bewaren
Bewaren
Bewaren
Bewaren
Bewaren
Bewaren
Bewaren
Bewaren
Bewaren
Bewaren
Bewaren
Bewaren
Bewaren
Bewaren
Bewaren
Bewaren
Bewaren
Bewaren
Bewaren
Bewaren
Bewaren
Bewaren
Bewaren
Bewaren
Bewaren
Bewaren
Bewaren
Bewaren
Bewaren
Bewaren
Bewaren
Bewaren
Bewaren
Bewaren
Bewaren
Bewaren
Bewaren
Bewaren
Bewaren
Bewaren
Bewaren
Bewaren
Bewaren
Bewaren
Bewaren
Bewaren
Bewaren
Bewaren
Bewaren
Bewaren
Bewaren
Bewaren
Bewaren
Bewaren
Bewaren
Bewaren
Bewaren
Bewaren
Bewaren
Bewaren
Bewaren
Bewaren
Bewaren
Bewaren
Bewaren
Bewaren
Bewaren
Bewaren
Bewaren