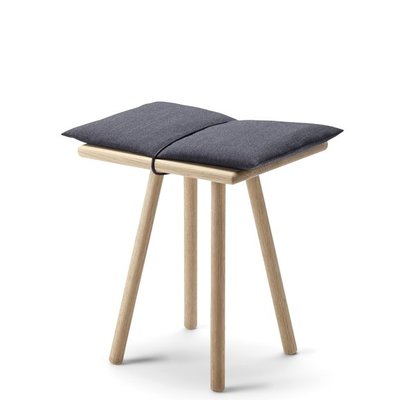 Size:
W 45 x D 32 x H 46 cm
Finishes:
100% FSC oak, natural or black stained
Chris L. Halstrøm
::
The Georg collection, designed by Chris L. Halstrøm, is inspired by the need to store, hang and drop things off in the hallway of a home. The stool is a piece of furniture in its own right - for why not use the back-up furniture instead of storing it out
The stool is part of design museum Trapholts permanent collection. It is a back-up seat designed in a material encounter between wood, wool and leather in an expression between Nordic sensuality and Japanese minimalism.
The upholstery on the seat is the fabric Crisp from Gabriel. A beautiful woolen fabric honoured with sustainability labels.

Colour fabric

| | |
| --- | --- |
| | |
| 4011 on natural oak | 4022 on black oak |
Bewaren
Bewaren
Bewaren
Bewaren
Bewaren
Bewaren
Bewaren
Bewaren
Bewaren
Bewaren
Bewaren
Bewaren
Bewaren
Bewaren
Bewaren
Bewaren
Bewaren
Bewaren
Bewaren
Bewaren
Bewaren
Bewaren
Bewaren
Bewaren
Bewaren
Bewaren
Bewaren
Bewaren
Bewaren
Bewaren
Bewaren
Bewaren
Bewaren
Bewaren
Bewaren
Bewaren
Bewaren
Bewaren
Bewaren
Bewaren
Bewaren
Bewaren
Bewaren
Bewaren
Bewaren
Bewaren
Bewaren
Bewaren
Bewaren
Bewaren
Bewaren
Bewaren
Bewaren
Bewaren
Bewaren
Bewaren
Bewaren
Bewaren
Bewaren
Bewaren
Bewaren
Bewaren
Bewaren
Bewaren
Bewaren
Bewaren
Bewaren
Bewaren
Bewaren
Bewaren
Bewaren
Bewaren
Bewaren
Bewaren
Bewaren
Bewaren
Bewaren
Bewaren
Bewaren
Bewaren
Bewaren
Bewaren
Bewaren
Bewaren
Bewaren
Bewaren
Bewaren
Bewaren
Bewaren
Bewaren
Bewaren
Bewaren
Bewaren
Bewaren
Bewaren