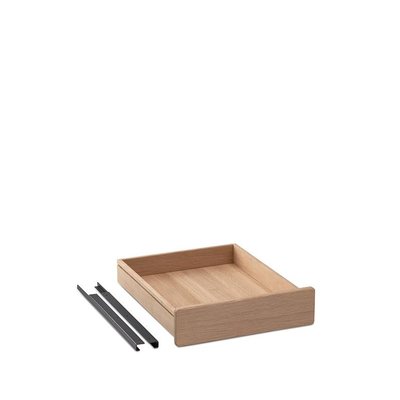 Size:
W 34 x D 41,5 x H 9 cm
Finishes:
100% FSC oak, natural or black stained
Chris L. Halstrøm
::
This optional add-on optimises desk storage. It can be installed on either the left or the right side of the desk. The drawer is just the right size for a laptop.
With a Swedish mother and Danish father Chris Liljenberg Halstrøm shows her Nordic roots in her designs through a minimalistic approach and strong combinations of materials like wood, leather and wool. Function is her starting point and dictates the idiom of her beautiful designs. She is deeply fascinated by traditional Japanese architecture and design which focuses on the core function of the design. And because of this, it is no surprise that Chris Liljenberg Halstrøm challenges new alternative core functions of a future design when she is immerse in a new design project. 
Bewaren
Bewaren
Bewaren
Bewaren
Bewaren
Bewaren
Bewaren
Bewaren
Bewaren
Bewaren
Bewaren
Bewaren
Bewaren
Bewaren
Bewaren
Bewaren
Bewaren
Bewaren
Bewaren
Bewaren
Bewaren
Bewaren
Bewaren
Bewaren
Bewaren
Bewaren
Bewaren
Bewaren
Bewaren
Bewaren
Bewaren
Bewaren
Bewaren
Bewaren
Bewaren
Bewaren
Bewaren
Bewaren
Bewaren
Bewaren
Bewaren
Bewaren
Bewaren
Bewaren
Bewaren
Bewaren
Bewaren
Bewaren
Bewaren
Bewaren
Bewaren
Bewaren
Bewaren
Bewaren
Bewaren
Bewaren
Bewaren
Bewaren
Bewaren
Bewaren
Bewaren
Bewaren
Bewaren
Bewaren
Bewaren
Bewaren
Bewaren
Bewaren
Bewaren
Bewaren
Bewaren
Bewaren
Bewaren
Bewaren