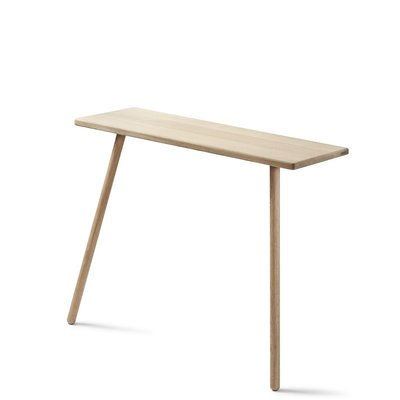 Size:
W 90 x D 32 x H 73 cm
Finishes:
100% FSC oak, natural or black stained
Chris L. Halstrøm
::
Georg Console Table by Chris L. Halstrøm was inspired by the need for a place to drop keys and other things off in narrow spaces such as hallways.
The shelf concept led to the console table, which almost invites you to pull up a chair and sit down with a cup of coffee.
With a Swedish mother and Danish father Chris Liljenberg Halstrøm shows her Nordic roots in her designs through a minimalistic approach and strong combinations of materials like wood, leather and wool. Function is her starting point and dictates the idiom of her beautiful designs. She is deeply fascinated by traditional Japanese architecture and design which focuses on the core function of the design. And because of this, it is no surprise that Chris Liljenberg Halstrøm challenges new alternative core functions of a future design when she is immerse in a new design project. 
Skagerak is a family-owned company with historical roots in Scandinavian geography and proud furniture traditions. Our passion for wood and our focus on quality have remained intact, as we have developed into a modern design brand with an extensive selection of contemporary products in a wide range of materials, created by established designers as well as up-and-coming talents.
Bewaren
Bewaren
Bewaren
Bewaren
Bewaren
Bewaren
Bewaren
Bewaren
Bewaren
Bewaren
Bewaren
Bewaren
Bewaren
Bewaren
Bewaren
Bewaren
Bewaren
Bewaren
Bewaren
Bewaren
Bewaren
Bewaren
Bewaren
Bewaren
Bewaren
Bewaren
Bewaren
Bewaren
Bewaren
Bewaren
Bewaren
Bewaren
Bewaren
Bewaren
Bewaren
Bewaren
Bewaren
Bewaren
Bewaren
Bewaren
Bewaren
Bewaren
Bewaren
Bewaren
Bewaren
Bewaren
Bewaren
Bewaren
Bewaren
Bewaren
Bewaren
Bewaren
Bewaren
Bewaren
Bewaren
Bewaren
Bewaren
Bewaren
Bewaren
Bewaren
Bewaren
Bewaren
Bewaren
Bewaren
Bewaren
Bewaren
Bewaren
Bewaren
Bewaren
Bewaren
Bewaren
Bewaren
Bewaren
Bewaren