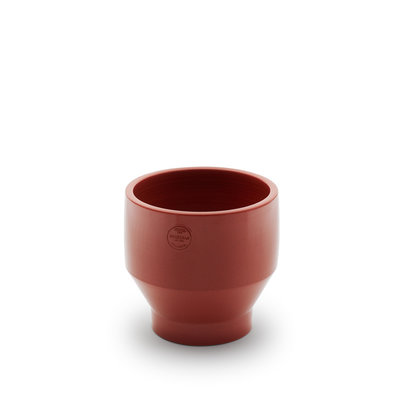 Size:
Ø x H: 25 x 24 cm, 35 x 34 cm
Finishes:
glazed terracotta
Stilleben
::
Stilleben's series of Edge pots for outdoor use consists of simple and stylish terracotta pots in two sizes.
The inspiration for Edge comes from Classic Greek and Egyptian vases that are raised slightly up from the ground by a small base. Here, the base is an integrated part of the design in a reinterpreted Scandinavian version with an embossed imprint.
Behind Stilleben are two talented ceramists, Ditte Reckweg and Jelena Nordentoft. The two met at The Danish Design School, and shortly after graduation they had the idea for the shop Stilleben, which carries carefully selected craft and design objects for the table, the home and the wardrobe. The main emphasis was on ceramics, and the presentation of objects on the shelves was carefully balanced and aesthetic. The rest is history. With their shop concept and their emphasis on quality, Reckweg and Nordentoft proved themselves successful first movers. Today, 15 years later, Stilleben is a trend-setting and internationally recognised gallery in the heart of Copenhagen, driven by a clear sense of aesthetic, quality and passion.