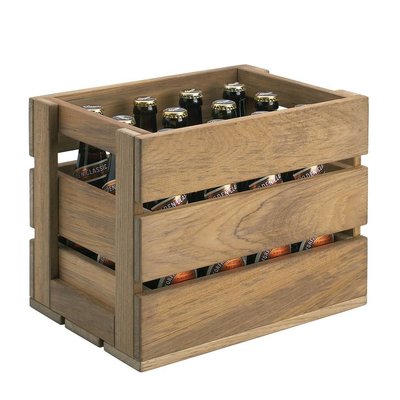 Size box 2:
W 33 x D 22 x H 13 cm
Size box 3:
W 31 x D 22 x H 25,5 cm
Size box 4 :
W 44,5 x D 31 x H 13 cm
Finishes:
100% FSC black stained oak or teak
Designit
::
Dania Box is part of the popular Dania-series of beautiful, exclusive and sturdy reinterpretations of forgotten classics which add a special nostalgic touch to the modern interior decoration.
The box is perfect for storing vegetables in the kitchen, office supplies in the home office or small items in the bathroom.
Designit creates easy-to-grasp designs that surprise at first glance and in use produce a joy of recognition. With the Scandinavian design tradition as point of departure, they combine the traditional with modern, minimalist tendencies. 
It all started with the opening of a small office in Aarhus, Denmark, back in 1991, but today they are a multi-disciplinary design team covering a range of 30 different competencies. During more than 20 years, they have grown larger and worked with design and innovation gaining inspiration from peoples' daily lives. They describe themselves as an innovative design team, with the world as their workplace. For even though their roots are deep in the Danish soil, their mind-set is European and their range global. No matter the time or place, Designit solves real problems for real people.
Bewaren
Bewaren
Bewaren
Bewaren
Bewaren
Bewaren
Bewaren
Bewaren
Bewaren
Bewaren
Bewaren
Bewaren
Bewaren
Bewaren
Bewaren
Bewaren
Bewaren
Bewaren
Bewaren
Bewaren
Bewaren
Bewaren
Bewaren
Bewaren
Bewaren
Bewaren
Bewaren
Bewaren
Bewaren
Bewaren
Bewaren
Bewaren
Bewaren
Bewaren
Bewaren
Bewaren
Bewaren
Bewaren
Bewaren
Bewaren
Bewaren
Bewaren
Bewaren
Bewaren
Bewaren
Bewaren
Bewaren
Bewaren
Bewaren
Bewaren
Bewaren
Bewaren
Bewaren
Bewaren
Bewaren
Bewaren
Bewaren
Bewaren
Bewaren
Bewaren
Bewaren
Bewaren
Bewaren
Bewaren
Bewaren
Bewaren
Bewaren
Bewaren
Bewaren
Bewaren
Bewaren
Bewaren
Bewaren
Bewaren