candle holders and vases
Malene Birger
::
The Block Candle Holder combines a bold form with an honest presentation of material. Block expresses Malene Birger's devotion to sculptural and simple design, featuring a polished brass stem offset with the natural tones of the marble base.
Maija Puoskari
::
The Pi-No-Pi-No Vase takes inspiration from the diversity of nature. It can grow as the flowers grow, and change like the seasons.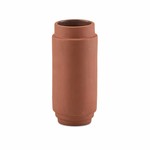 Stilleben
::
Edge Vase in terracotta is inspired by an ancient Greek-Egyptian tradition for craftsmanship.