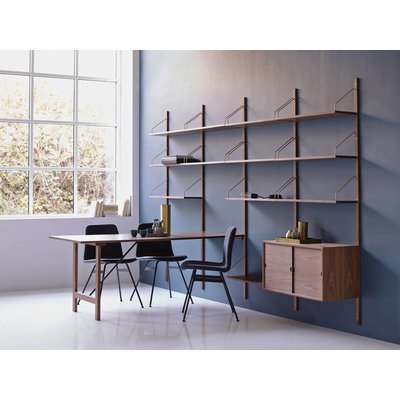 Availability
made to order
Delivery time
6 to 8 weeks
Technical specifications:
Poul Cadovius
::
Back in 1948 furniture designer Poul Cadovius created the world's first wall-mounted shelving system ROYAL SYSTEM®, which was also a breakthrough because of its light styling and the many individual combination possibilities.
In 2010, dk3 relaunched the ROYAL SYSTEM® in contemporary materials such as walnut, oak, and compact laminate with steel or the original brass hangers.
The ROYAL SYSTEM® now comes with additional tabletops in two different heights and sizes as well as a unique slanted magazine shelf with well-crafted brass or steel hangers.
dk3 has relaunched the original design from 1948, but due to new production techniques new parts are not compatible with old parts produced before 1985. There may be colour differences in the different materials.
Over time there may be light deflections on the shelves. For maintaining a straight profile, we recommend that you do not load the shelves with more than 15 kg per shelf. Since brass is softer than stainless steel, it is also expected that the shelves with brass hangers "give" more than shelves with stainless steel hangers. Hangers are not sold separately. We recommend that the ROYAL SYSTEM® is always installed by professionals. 
The ROYAL SYSTEM® comes with many options. THE PRICES IN THE LIST ON THE RIGHT HAND SIDE MATCH THE CONFIGURATIONS IN THE PICTURES. If you would like a personalised offer, use the configurator on the dK3 website to help you. Send the pdf generated by the system to [email protected] and you will receive an offer within 24h.
Finishes:
Shelves/cabinets: oak or walnut MDF veneer
Drawers/rails: Solid wood
Hangers: raw brass or stainless steel.
Options:
Rail, H 200 cm: 44 setting holes for the mounting of hangers/holders, max 6 shelves

Rail, H 100 cm: 22 setting holes for the mounting of hangers/holders, max 3 shelves

Shelf, D 24 cm: requires 6 setting holes. Dimensions: W 80 x D 24 x H 1,9 cm
Shelf, D 30 cm: vereist 6 setting holes. Dimensions: W 80 x D 30 x H 1,9 cm
Magazine holder, D 31 cm: requires 4 setting holes. Dimensions: W 80 x D 31 x H 1,9 cm
Desk shelf, D 60 cm: requires 13 setting holes. Dimensions: W 80 x D 60 x H 1,9 cm
Table, H 72 x D 125 cm: incl. legs and wallmounting. Dimensions: W 80 x D 125 x H 72 cm
Table, H 72 x D 175 cm: incl. legs and wallmounting. Dimensions: W 80 x D 175 x H 72 cm
Cupboard no. 6 w/ 2 doors and 1 shelf: requires 10 setting holes. Dimensions: W 80 x D 38 x H 42,4 cm
Cupboard no. 10 w/ 2 sliding doors and 1 shelf: requires 10 setting holes. Dimensions: W 80 x D 38 x H 42,4 cm
Cupboard no. 7 w/ 3 drawers: requires 10 setting holes. Dimensions: W 80 x D 38 x H 42,4 cm
Bewaren
Bewaren