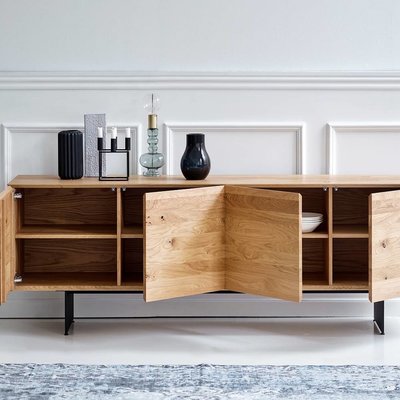 Rainer Bachschmid
::
The stunning Raba sideboard in solid wood, designed by Swiss designer, Rainer Bachschmid, rests on two slim steel legs. The front of the Raba sideboard, which consist of 4 doors, is made out of one piece of wood and gives a perfect and natural overall im
Inside the cabinet, there are 4 equal spaces behind handleless doors. Interior dimensions of each compartment: H 46 x W 48 x D 42 cm. In each compartment there is one shelf with three mounting positions.
It is possible to add cutlery drawers, which will be hidden behind the doors.
Standard wood choice is wild oak. "Wild oak" is oak with knots and small cracks that is closed with so called "plast-kleber". Raba is also available in oak and walnut, with an upcharge.
The legs are either clear or black powder coated steel. The wood is either treated with oil, whiteoil or soap. To see the wood colours and the effect of the protective layer, look here.
Bewaren
Bewaren
Bewaren