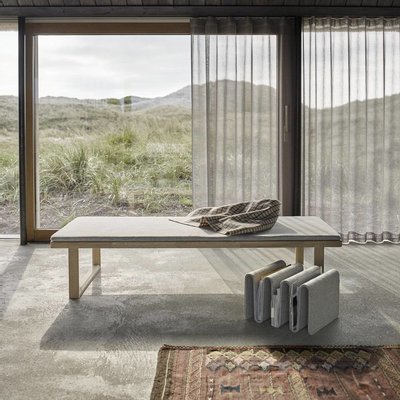 Availability
made to order
Dimensions:
L 180 x W 70 x H 35 cm
Noidoi
::
Pulse daybed interprets our growing need for flexible environments and private spaces in an innovative and multifunctional construction that brings new and traditional materials together.
Pulse adapts to different situations, as you can fold up the mattress which has a woolen upholstery, and access the hatch and magazine holder. The lid covering the hatch can be used independently as a serving tray, and the magazine holder in moulded felt – a material made from recycled plastic – is also removable. Pulse is made of 100% FSC oak.
If necessary, you can take of the woolen upholstery and send it for dry cleaning. The fabric used for the upholstery is Kvadrat's Tonus Meadow.
116
Noidoi Design Studio came to life in 2013 after two ambitious designers collided at the Royal Danish Academy of Fine Arts, School of Design and decided to join forces to live out their shared dream of creating objects with personality and a long life-span.
Noidoi is Romanian and means "the two of us". The name refers to the two bright heads behind the design studio, Cosmin who was born and raised in Bucharest, Romania, and Kathrine, who spend most of her childhood in Gjøvik, Norway, and two years in Sri Lanka as well. Today, the two of them are located in the little town of Kapp, which is right next to Norway's biggest lake and surrounded by all the classical virtues of Scandinavian nature.
Skagerak is a family-owned company with historical roots in Scandinavian geography and proud furniture traditions. Our passion for wood and our focus on quality have remained intact, as we have developed into a modern design brand with an extensive selection of contemporary products in a wide range of materials, created by established designers as well as up-and-coming talents.
Bewaren
Bewaren
Bewaren
Bewaren
Bewaren
Bewaren
Bewaren
Bewaren
Bewaren
Bewaren
Bewaren
Bewaren
Bewaren
Bewaren
Bewaren
Bewaren
Bewaren
Bewaren
Bewaren
Bewaren
Bewaren
Bewaren
Bewaren
Bewaren
Bewaren
Bewaren
Bewaren
Bewaren
Bewaren
Bewaren
Bewaren
Bewaren
Bewaren
Bewaren
Bewaren
Bewaren
Bewaren
Bewaren
Bewaren
Bewaren
Bewaren
Bewaren
Bewaren
Bewaren
Bewaren
Bewaren
Bewaren
Bewaren
Bewaren
Bewaren
Bewaren
Bewaren
Bewaren
Bewaren
Bewaren
Bewaren
Bewaren
Bewaren
Bewaren
Bewaren
Bewaren
Bewaren
Bewaren
Bewaren
Bewaren
Bewaren
Bewaren
Bewaren
Bewaren
Bewaren
Bewaren
Bewaren
Bewaren
Bewaren
Bewaren
Bewaren
Bewaren
Bewaren
Bewaren
Bewaren
Bewaren
Bewaren
Bewaren
Bewaren
Bewaren
Bewaren
Bewaren
Bewaren
Bewaren
Bewaren
Bewaren
Bewaren