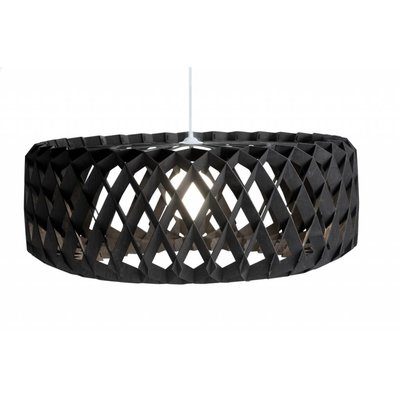 Tuukka Halonen
::
Pilke 80 is big in size but has a light appearance due to the plywood structure. This pendant is a beautiful center piece in any large space. Available in 3 colours: natural birch, white and black stain.
The PILKE lights are assembled of numerous plywood parts in a way which brings together traditional Finnish handicrafts technique and ultramodern computer geometry. No glue or screws are needed.   PILKE is a unique, decorative lamp, giving natural warm light through its wooden structure.  The word PILKE is a Finnish word for TWINKLE.
Tuukka Halonen is a highly talented designer with over 15 years experience in commercial design environment. He graduated from Royal College of Art in London 1998. Between 2000 - 2004, he worked in the design department at Habitat Ltd. developing products with high volume manufacturers from around the world. Tuukka started his own design studio 2005 back in Finland.
In his recent works Tuukka has been influenced by traditional crafts employing wood in its various forms. He has created new interpretations of the craft heritage utilizing today's manufacturing techniques and materials. " I want to investigate material qualities, beauty of structures".