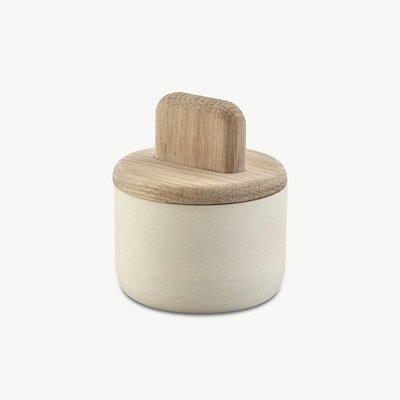 Delivery time
Pick up only
Noidoi
::
Paddle Jar is the salt container in NOIDOI's salt and pepper set which is characterized by its unique paddle looking extension that gives a better grip.
Paddle Jar consists of a ceramic container covered by a wooden lid made from untreated oak. The ceramic is casted in a mat, earthly nuance which expression speaks the same Nordic language as the wooden lid and the pepper mill in the same series, Paddle Grinder.
Says designer duo Noidoi "Even the smallest thoughts, incidents or trends can become something big one day. But no matter the scale of a project, usability, detailing and good craftsmanship should always be paramount in the design." 
Bewaren
Bewaren
Bewaren
Bewaren
Bewaren
Bewaren
Bewaren
Bewaren
Bewaren
Bewaren
Bewaren
Bewaren
Bewaren
Bewaren
Bewaren
Bewaren
Bewaren
Bewaren
Bewaren
Bewaren
Bewaren
Bewaren
Bewaren
Bewaren
Bewaren
Bewaren
Bewaren
Bewaren
Bewaren
Bewaren
Bewaren
Bewaren
Bewaren
Bewaren
Bewaren
Bewaren
Bewaren
Bewaren
Bewaren
Bewaren
Bewaren
Bewaren
Bewaren
Bewaren
Bewaren
Bewaren
Bewaren
Bewaren
Bewaren
Bewaren
Bewaren
Bewaren
Bewaren
Bewaren
Bewaren
Bewaren
Bewaren
Bewaren
Bewaren
Bewaren
Bewaren
Bewaren
Bewaren
Bewaren
Bewaren
Bewaren
Bewaren
Bewaren
Bewaren
Bewaren
Bewaren
Bewaren
Bewaren
Bewaren
Bewaren
Bewaren
Bewaren
Bewaren
Bewaren
Bewaren
Bewaren
Bewaren
Bewaren
Bewaren
Bewaren
Bewaren
Bewaren
Bewaren
Bewaren
Bewaren
Bewaren
Bewaren