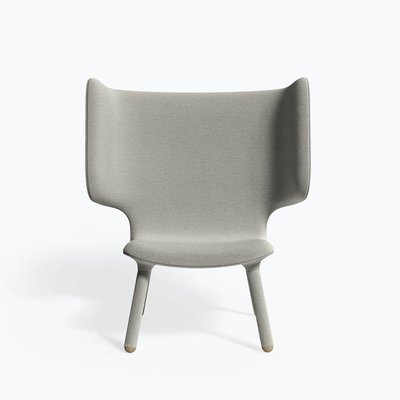 Size:
H: 1015 x W: 963 x D: 810 mm
Noergaard & Kechayas
::
Functionally sitting between a lounger and an armchair, Tembo's extended arms invite you into its warm embrace. Its unique form allows the Tembo Lounge Chair to be social, while at the same time creating a space for reflection.
The big, soft elephant ear exterior provides a striking form, while the choice of colours and textures can create a playful addition, or a bold statement piece.
In the photos you see the version in Kvadrat Hero 211, price category B.
Price category A: Camira: Main Line Plus, Main Line Flax
Price category B: Kvadrat:  Hero en Remix 2
Price category C: Kvadrat: Divina Melange 2, Hallingdal 65, Steelcut Trio 2
Founded in 2009, NOERGAARD-KECHAYAS is a Copenhagen (DK) based studio, working within the fields of industrial, furniture and lighting design.
Christian and Martin are two very different characters. Where Christian is calm and pensive with a critical approach to design – Martin often charges ahead with lots of ideas and temperament. These differences in skills and personality make for a strong dynamic collaboration between the two designers. The design approach of NOERGAARD-KECHAYAS is problem solving by nature and aims to offer strong visual appeal with innovative technical solutions.