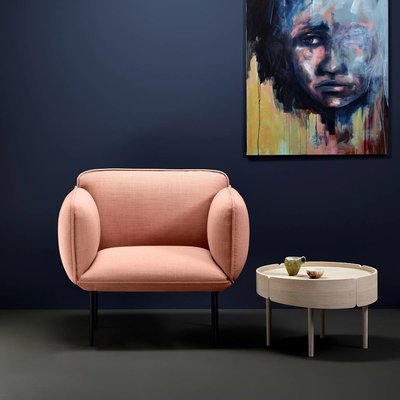 Availability
made to order
Delivery time
6 to 8 weeks
Size:
L 97 x W 78 x H 83 cm
Mika Tolvanen
::
Nakki is a distinctive series, which is meant to be a cheerful personality in the living room. The one-seater has ample and firm padding for a comfortable sit. Its square form and straight legs contrast with its soft shapes on the seating.
The rounded edges and a minimalistic take on classic sofa legs give Nakki its characteristic and loungy feel.
The Nakki series is made of a strong wooden frame with the right amount of foam and webbing to make Nakki a comfortable and soft seating experience.
Upholstery:
Nakki is available in 7 fabrics and 1 leather, in 5 price catagories.
Price group 1
Davis Ontario a 100% polyester fabric with a velvet touch. Available in 25 colours.
Price group 2
Gabriel Step Melange is a synthetic fabric (100% Trevira cs), very strong and easy to maintain. Comes in 54 colours.
My favourites are:
| | | | | |
| --- | --- | --- | --- | --- |
| | | | | |
| 60004 | 60092 | 61103 | 61104 | 64178 |
Price group 3
Gabriel Luna 2 is made of 90% wools of New Zealand and 10% polyamide. Wears well, spots and dirt hardly show. Available in 25 updated colours.
My choice is:
Kvadrat Remix 2 is a beautiful woolen fabric (90% new wool worsted, 10% nylon), finely woven and therefore less pilling. Available in 49 colours.
My choice is:
Price group 4
Kvadrat Hallingdal 65 (een melange of 70% wool and 30% viscose), Kvadrat Steelcut Trio 3 (same composition as Remix 2, but heavier), together more than 100 colours to choose from.
THE on trend fabric of the moment is Harald 3, een beautiful velours in rich colours, created by Fanny Aronsen and Raf Simons.
My picks are a deep blue, bright yellow and rich emerald green:
Price group 5
Camo Silk aniline leather is a soft and luxurious leather. Aniline leather has none or only a light surface treatment which preserves the leather's natural surface and soft touch. All natural markings will be visible on aniline leather which contributes to the leather's exclusive appearance. Choose from 17 rich colours here.
My picks are:
| | |
| --- | --- |
| | |
| cream | cognac |
Bewaren
Bewaren
Bewaren
Bewaren
Bewaren
Bewaren
Bewaren
Bewaren
Bewaren
Bewaren
Bewaren
Bewaren
Bewaren
Bewaren
Bewaren
Bewaren
Bewaren
Bewaren
Bewaren
Bewaren
Bewaren
Bewaren
Bewaren
Bewaren