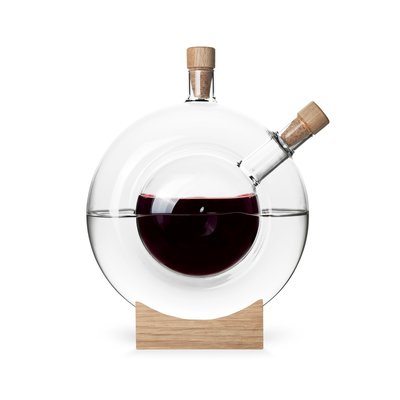 Availability
Out of stock
Delivery time
not on stock
Size:
H 25 cm x W 20 cm x D 7.5 cm
Eva Harlou
::
The Double Bottle carafe is designed by the Danish architect Eva Harlou. The carafe is crafted in hand-blown borosilicate glass. This original, yet functional piece of design features a two-room carafe on a wooden oak block and cork/oak stoppers.
Fill with sparkling/still water, blackcurrant/water, aperol/prosecco, water/red wine or your favourite combination of drinks for a stylish and easy way to serve them.
Borosilicate glass, originally used for laboratory glassware, is known for it's high level of resistance to thermal shock, making the Double Bottle carafe suitable for both hot and cold liquids. 
Capacity 
Inner carafe: 300 ml | 10.1 oz
Outer carafe: 1400 ml | 47.3 oz