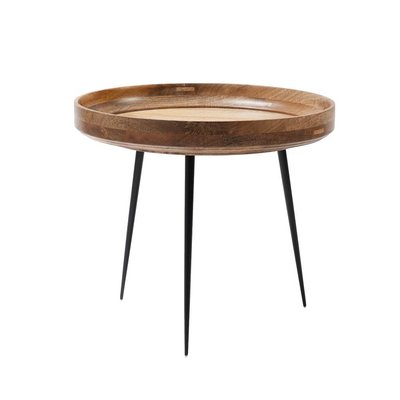 Ayush Kasliwal
::
The Mater Bowl Table reconciles old Indian craftsmanship with the simplicity of Scandinavian design.
The table top, made of sustainably sourced mango wood is turned on a lathe, showcasing the skill of Kharadi, an Indian wood turning community and supporting their local craftsmanship.
The finish used on the table top is a lead-free, water-based PU lacquer. The legs are made of milled hollow steel rods and can be detached for ease of labour and transportation.
Ayush Kasliwal is a furniture design graduate from National Institute of Design Ahmedabad, the premier design institute in India. Ayush's design studio AKFD is committed to development of ideas using local crafts that have evolved over centuries. His work represents a fusion of unique creativity and uncompromising integrity rare to find in the highly competitive world market.
Ayush explains: "Products have their own eco-system. They carry with them their history - as in how and where they are made, and their future - as in where they will go to. Mater is one of the few to recognise this, and to engage, in a positive manner with these eco systems".