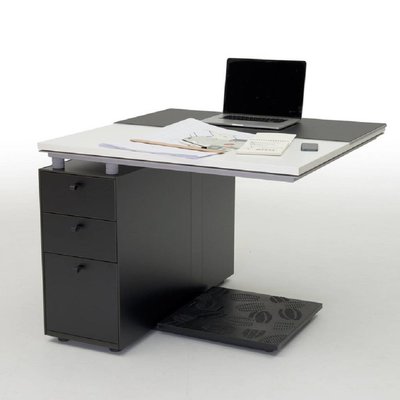 Availability
made to order
Dimensions:
L 100 x W 100 x H 76,6 cm
Type of pedestal:
Pedestal on the left, door in the back, one drawer and a door in the front
Materials:
White melamine top, pedestal in black solid core laminate, steel foot plate
Luc Vincent
::
Of all Bulo-products, the M2 has perhaps the highest iconic value. The desk measures one square meter and was designed in 1996. Due to its compactness it is also a great home office desk.
The Belgian architect Luc Vincent studied at La Cambre in Brussels. He currently works as an independent designer and art director for various design brands.

Luc Vincent always looked for father figures in his professional life. Often he worked behind the scenes for big designers or architects. He worked 10 years for the renowned French architect Jean Nouvel, four years at Ricardo Bofill and stood at the cradle of the Carte Blanche collection for Bulo.

In 1996 he designed along with the Bulo designers the desk M2, two years later, the Pub & Club office chair followed. Product design means for both the Brussels architect and the Bulo designers more than a solution to purely functional needs. At the start of a new product development, they add subjective values ​​to their specifications that are at least as important as production or ergonomic requirements: elements such as personality, prestige, humor, privacy, aesthetics and coziness.

Design is not synonymous with extravagance, but an attitude, a formal language, a means of communication to achieve better performance, a better quality of life.