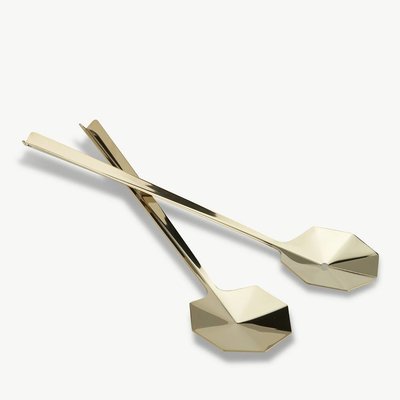 Size:
L 32,5 x D 8,5 x H 1 cm
Maximillian Schmahl
::
Leaf salad servers are made out of one-piece steel and created by Maximillian Schmahl who has a predilection for the simple, but warm design.
As the name indicates, Leaf gets its strength and look through its structure, similar to organic structures in the nature. The cutlery is dishwasher safe.
Maximilian Schmahl grew up surrounded by iconic architects and designers, and this inspiring environment made the esteemed Bauhaus-Universität Weimar an obvious choice. Here, the combination of intellectual and hands-on work proved a satisfying experience, and after his graduation, Schmahl worked as an intern at a variety of design studios before opening his own in Berlin in 2013.
'For me, good design is about working very concentrated and trying to find and compare different possible solutions and materials.' Thus, new ideas and objects do not emerge out of the blue, according to Schmahl, but are the result of a concentrated work effort aimed at finding the best solution. Patience is another of Maximilian Schmahl's virtues, because durable results require time and immersion in a task. Maximilian Schmahl wants to create objects that people enjoy having as part of their daily life, and therefore he dreams about designing a kitchen, because kitchens present both functional and emotional challenges that he would love to address. 'Design should not take itself too seriously but be of use to people.' The biggest compliment a designer can hope for, according to Schmahl, is that people want to live with his or her products every day.