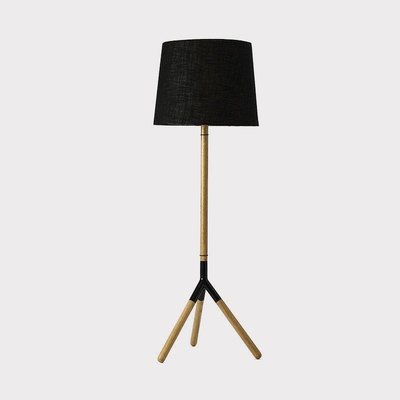 J. Thomsen & S. Traberg
::
The Mater Lathe Lamp is a contemporary and sculptural piece of luminaire designed by the Danish designers Jesper K. Thomsen and Sanne Traberg.
The body and legs of the lamp are turned in wood after old crafts traditions. The name of the lamp refers to the small turning tool the craftsmen uses when making the body and legs. The oak wood is FSC certified with a black painted aluminium frame. The shade is made of black linen. Comes with European wiring, E27 socket, max 60W regular.
Studio Jesper K. Thomsen is a design and development company."We aim to make design with justification, meaning that we make solutions we need. We want to solve problems, because if we do that, there is a need and a market. That is how we make a succes for our customers, their customers and ourselves."
Sally Lund Traberg is a graphic and industrial Designer MDD. She previously worked at Lego, Studio Jesper K. Thomsen, Plast team A/S and ran her own studio, befofer she joined Georg Jensen Living as Design Manager.