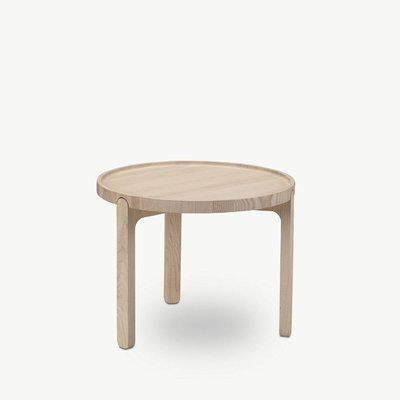 Availability
made to order
Size small:
H 43 cm Ø 34 cm
Size large:
H 37,5 cm Ø 48 cm
Finishes:
100% FSC ash or oak
Terkel Skou Steffensen
::
Indskud is a small family of side tables in two heights that merge when pushed under the other. The tabletop can freely be lifted on and off, meaning that it functions as a serving tray when coffee, breakfast or night snacks are coming in and out the kitc
The tables' multifunction has dictated the simple but striking design, highlighted by the three visible gathering points that makes it easier to fit the table top onto the frame when putting down again. 
Understandable design for all. That is Terkel Skou Steffensen's main vision as he creates functional objects made for quick integration in people's everyday life. One important aspect in Terkel's designing is to get the most out of the materials as possible. To him, the character of an object should be determined by its function – not the other way around – and the expression does not necessarily have to be innovative. Terkel likes to draw subtle references to classic designs and reinterpret them out from his point of view. 
Bewaren
Bewaren
Bewaren
Bewaren
Bewaren
Bewaren
Bewaren
Bewaren
Bewaren
Bewaren
Bewaren
Bewaren
Bewaren
Bewaren
Bewaren
Bewaren
Bewaren
Bewaren
Bewaren
Bewaren
Bewaren
Bewaren
Bewaren
Bewaren
Bewaren
Bewaren
Bewaren
Bewaren
Bewaren
Bewaren
Bewaren
Bewaren
Bewaren
Bewaren
Bewaren
Bewaren
Bewaren
Bewaren
Bewaren
Bewaren
Bewaren
Bewaren
Bewaren
Bewaren
Bewaren
Bewaren
Bewaren
Bewaren
Bewaren
Bewaren
Bewaren
Bewaren
Bewaren
Bewaren
Bewaren
Bewaren
Bewaren
Bewaren
Bewaren
Bewaren
Bewaren
Bewaren
Bewaren
Bewaren
Bewaren
Bewaren
Bewaren
Bewaren
Bewaren
Bewaren
Bewaren
Bewaren
Bewaren
Bewaren