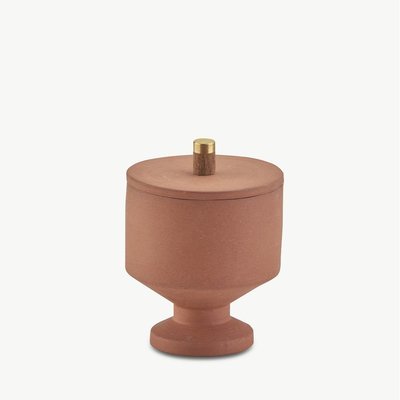 Stilleben
::
The elegant terracotta sugar bowl from the Edge collection emanates from an ancient Greek-Egyptian tradition for craftsmanship. Designed in a simple, Nordic expression, Edge mug is poised between the natural and the refined.
The outside has kept its original burned look in brownish-red nuances, while the inside is glazed to ensure a sturdy and water-resistant surface easy to clean. The small handle on the lid is made from an elegant composition of teak and brass. Edge Sugar Bowl can go in the dishwasher.
Behind Stilleben are two talented ceramists, Ditte Reckweg and Jelena Nordentoft. The two met at The Danish Design School, and shortly after graduation they had the idea for the shop Stilleben, which carries carefully selected craft and design objects for the table, the home and the wardrobe. The main emphasis was on ceramics, and the presentation of objects on the shelves was carefully balanced and aesthetic. The rest is history. With their shop concept and their emphasis on quality, Reckweg and Nordentoft proved themselves successful first movers. Today, 15 years later, Stilleben is a trend-setting and internationally recognised gallery in the heart of Copenhagen, driven by a clear sense of aesthetic, quality and passion.