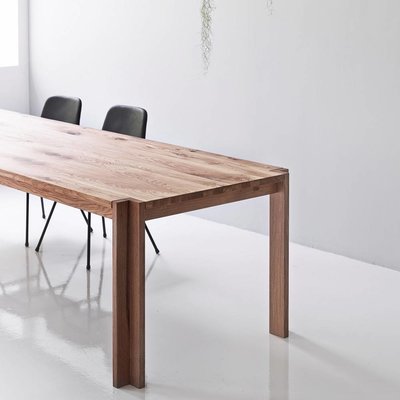 Jeppe Utzon
::
The JEPPE UTZON TABLE #1 balances a sublime contrast between the naked wooden material and the selected crafted details. With sizes up to 300 cm, the table is robust enough to host many guests, yet detailed enough to stand out.
JEPPE UTZON TABLE #1 is a solid table made as a "sandwich construction", which significantly minimizes natural movements compared to other solid tables. Beneath the table is a discrete steel cable, which can be adjusted with an ordinary wrench to achieve stability and prevent deflection over the years.
Jeppe Utzon has achieved international acclaim as an architect and designer, and the cross-creative DNA comes from no stranger. Jeppe Utzon's grandfather was the famed Danish architect Jørn Utzon - the architect and designer of the Sydney Opera House. As his grandfather, Jeppe Utzon allows detail and totality to work together in a unified expression that has genuine global appeal, and this design philosophy is truly embodied in JEPPE UTZON TABLE #1. 
Table top: 
3 cm 
Material: 
Wild oak.
Suface treatment: 
Oil or whiteoil
Legs: 
Solid wood  
Bewaren
Bewaren
Bewaren
Bewaren
Bewaren
Bewaren
Bewaren
Bewaren
Bewaren