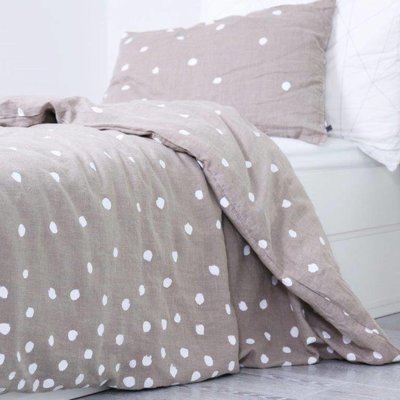 ooh noo
::
Pure linen duvet cover for your child. The pattern is made of hand drawn white chocolate buttons. The print will start to fade and look less defined with every wash. Don't fret: this was the look the designer was going for.
When talented designers create bedding for their own babies, good things come to life. Ooh Noo was born when one of the designers became a young mother. She wanted the best for her children: bedding that was well designed and made of pure materials that could be washed ad infinitum.
This ooh noo baby pillowcase has been washed and tumble-dried, so that you can start using it immediately.
You will notice that it becomes softer and more pleasant with every wash and tumble-dry. What you will also notice is that it looks best when it is naturally crumpled. We think that this makes it look better, more charming. You can iron this charm out, if you must, but we would rather you didn't.
The entire ooh noo collection is designed in the European Union and is also produced here, by hand.