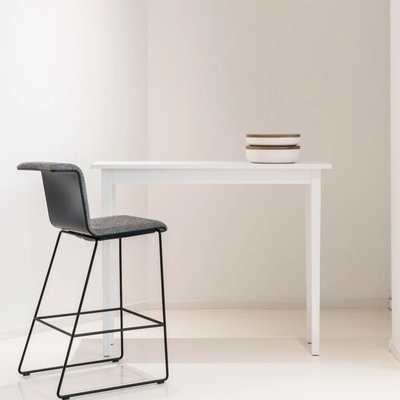 Dimensions TAB 32/34:
501 W x 630 D x 1060 H mm
Seat height TAB 32/34:
771 mm
Alain Berteau
::
The TAB chair by Belgian architect and designer Alain Berteau in a bar stool version. Comfortable and sleek.
Upholstery shell:
Choose between two fabrics and two colours.
Main Line Flax is an ecocertified fabric spun from 75% wool and 25% flax.
Credo is a durable woolen fabric made of premium worsted yarn with a pleasant feel.
The plywood shell is varnished in coffee bean colour.
The black sled base comes with felt or pvc glides.
 Designed by Alain Berteau.
Bewaren
Bewaren
Bewaren
Bewaren
Bewaren
Bewaren
Bewaren
Bewaren
Bewaren
Bewaren
Bewaren
Bewaren
Bewaren
Bewaren
Bewaren
Bewaren