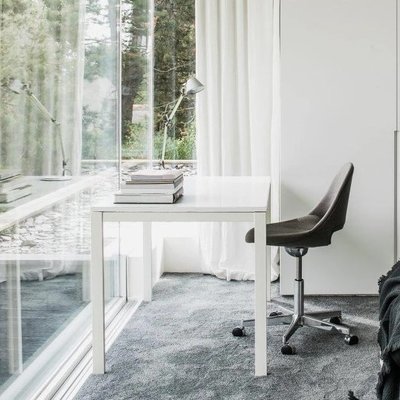 Léon Stynen
::
"58", a chair designed by Belgian postmodernist architect Léon Stynen also exists in an office chair version.
Léon Stynen (1899-1990) - son of a sculptor and decorative artist - studied architecture at the departement of architecture in Antwerpen Academy. The theoretical basis of Stynen's work is no doubt in keeping with Le Corbusier ideas. Stynen's oeuvre is wide-ranging and multi-faceted. The casinos built for Knokke and Chaudfontaine (1928) reflect his predilection for the new aesthetics of modernism, which at the time were not yet mainstream. The Royal Conservatory of Music in Antwerp and the Singel International Art Center is one of Stynen's last achievements.
Upholstery shell:
Choose between two fabrics and two colours.
Main Line Flax is an ecocertified fabric spun from 75% wool and 25% flax.
Credo is a durable woolen fabric made of premium worsted yarn with a pleasant feel.
The 5-star base is either black or matte chrome and comes with soft or hard castors.
Bewaren
Bewaren
Bewaren
Bewaren
Bewaren
Bewaren
Bewaren
Bewaren
Bewaren
Bewaren
Bewaren
Bewaren
Bewaren