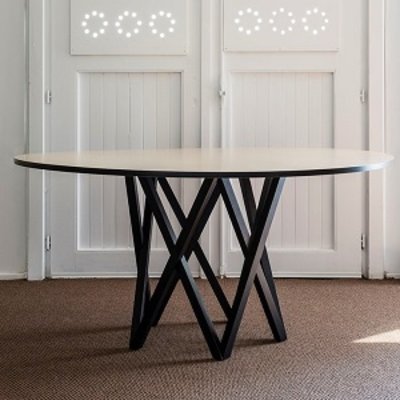 Stéphane Beel
::
SB55 is a table collection designed by the Belgian architect Stéphane Beel. Central to this design is the V-shaped trestle structure made of ash wood.
Stéphane Beel - born in 1955 in Kortrijk (Belgium) - studied architecture at the St. Lucas Institute in Ghent.

Early 80s, he founded his own architecture agency. His oeuvre includes both private homes and offices, town planning and venues like the Reuben Pavilion in Antwerp, the Roger Raveel Museum in Machelen-Zulte, the Courthouse in Ghent, the M museum in Leuven, the expansion of the International Arts Centre De Singel Antwerp, the Psychiatric Centre Gasthuisberg in Leuven and many other projects. In 2013 he started the expansion and renovation of the Royal Museum for Central Africa in Tervuren.
Top in plywood, plywood edge black lacquered, 24 mm thick. The top is covered with the innovative FENIX laminate, a super soft and matt finish.
Base: 5V leg, ash black lacquered
Dimensions: diam.1400/1600 x h.740 mm