The British design studio Wallace Sewell is the brainchild of Harriet Wallace-Jones and Emma Sewell, who met whilst studying textile design at The Royal College of Art. When they first exhibited in 1992, their pieces (scarves, cushions, throws,) created a lot of enthusiasm and interest. Wallace Sewell now supplies 300 stores in 20 countries.
They have been supplying Barney's in New York since the early days, collaborating with various boutique hotels, and were recently invited as guest designers for West Elm, a US-based interior design store. Their greatest sources of inspiration are the Bauhaus movement and a series of great European artists.
Wallace Sewell's headquarters are still in London, but Harriet Wallace-Jones left London in 2010 for rural Dorset, where she works on her designs in peace. She travels one day a week to the British capital where she joins her associate Emma Sewell and her other colleagues at Wallace Sewell's studio. "Together we strive to combine craftsmanship and industrial production and to embrace traditional techniques. The Bauhaus has been a strong joint inspiration for us since I was at college with Emma. The aesthetic and design ideology of this German movement particularly influences us."
Think global, act local
Emma and Harriet consciously chose to work locally from Great Britain. "We are very proud of the history of the British textile industry which is among the best in the world. It has excellent technology and a lot of talented professionals. Moreover, we can monitor quality control much more easily. We want to deliver high-quality design. That is more important to us than producing huge production quantities, "says Harriet.
For the production of the designs, Wallace Sewell uses a British family mill, which combines tradition with the latest technology. "They work for us on a commission basis and offer us the opportunity to weave a variety of qualities, from small batches to larger quantities."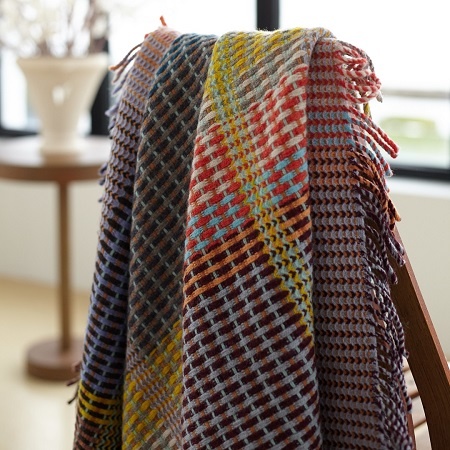 Smooth dance between studio and mill
The ladies of Wallace Sewell are inspired by a number of famous European artists and exhibitions that they visit. "The first design process starts on our own hand looms in the studios in London and Dorset," Harriet explains. "The various woven patterns are written up as specs. This information is then sent via e-mail to the mill where the warp is made, then threaded up using the heddles on each shaft in a specific sequence and then woven into cloth. The final phase takes place at the 'finishers'  who wash and press the fabric to give it a variety of luxurious feels and drapes. The fabric then travels back to the mill where it is cut up into sample scarves. We then take these samples to various trade fairs during the first months of the year in search of sales. Once we've collated the orders, production starts in the mill during the summer period. We deliver the orders from July to October. "
Transport for London
Wallace Sewell primarily designs its own collections, but also carries out assignments.  For many years they have collaborated with the Tate galleries, designing scarves inspired by major artists such as Paul Klee, Matisse and Rauschenburg, which are then sold in conjunction with the exhibitions. Emma and Harriet have also designed the fabric for the new CrossRail trains, for Transport for London. " We both enjoy the process. When we work on a commission, we usually start by consulting with the client, creating the designs and give advice on colours, motifs and materials. The customer usually carries out the production  'in house'. Such projects pose interesting design challenges for us, all the more because when you work in the public arena, there are a different set of criteria that need considering. This area of the business is continuing to grow and commissioned work is increasing.
Creative-commercial tandem
Harriet Wallace-Jones and Emma Sewell have been working together since 1992. We wonder how they manage this on a daily basis, both in terms of design and commercial implementation. "Our characters are very different. After graduating from The Royal College of Art, I wanted to work in a mill, Emma wanted to work freelance. Nevertheless, we joined forces, which over the years has led to a wonderful creative partnership. Our collaboration grew organically but always kept the same ethos. Emma designs both on the loom and on the computer. She works in an organized and considered way, being thorough and systematic in her approach. I am more spontaneous and work mostly on the loom, using it as a design tool. We've always complimented each other constantly discussing and challenging each other's ideas which is really inspiring, always leading to fresh, new ideas. At college, Emma was designing with various performance yarns, creating sculptural, three dimensional fabrics whilst I was preoccupied with large blocks of colour and pattern in my designs, focussing on furnishing fabrics. But together we form an incredibly strong creative team that results in a lot of mutual confidence. We also complement each other well in terms of business. Depending on the client and the project, either Emma or myself comes more to the fore. "
The commercial approach of both British designers has also changed considerably in recent years. "In the initial period, we were mainly reactive to customers. We exhibited at a number of fairs where we attracted the interest of an international audience, however when asked about our next collection, we had absolutely no idea, because we were such a young business and didn't have a model to work from. At that time we were challenged and started to think and work proactively, with success, because now we receive our largest orders at trade shows, such as in New York and Paris."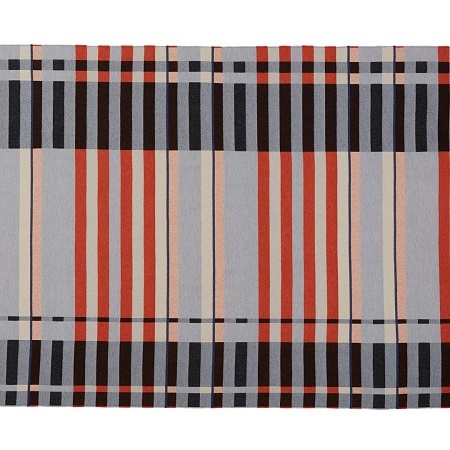 No regrets, no Brexit-fear
Harriet describes the past 27 years as great fun. "I think our experience as a design business has been a success and our choices have been positive. What would I do differently? Possibly a bit more organized and efficient in the early years, but I hope our journey will continue. In the future, we would like to collaborate with large companies in the field of colour and pattern advice, consulting on larger scale projects. But we don't want to compromise the quality of our work by diluting our designs to sell within the mass market.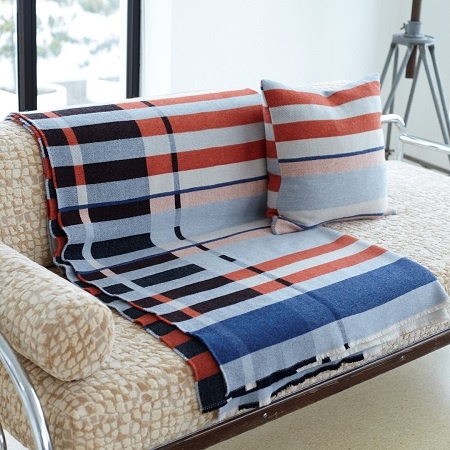 Finally, Harriet is not too worried about the fact that this international success might be thwarted by an impending Brexit. "It is of course a daunting proposition for many entrepreneurs in Great Britain, but hopefully it will only be an obstacle on a practical level and not effect our relationship with our customers. We've always felt completely European, embracing our great influences from the European mainland such as the Bauhaus, The Wiener Werkstätte and a whole host of wonderful European artists...
If you happen passing through Antwerp between 28 November and 21 December, make sure you catch some of Wallace Sewell's wonderful designs at Design Loves Craft.