British design ... For many people synonymous with the precious china that Hyacinth Bouquet is showing off to keep up appearances in the English countryside. Fortunately, Chris and Andy Vernall from East London thought differently when they founded Vitamin twenty years ago.
Out of the brains of both entrepreneurs - and a good number of fellow design lovers -, many exciting products, interiors, furniture and lighting for well-known companies around the world were born.
'A life less ordinary' is the credo of Vitamin, who strives to create simple, minimalist objects with an iconic value. "But above all functional and user friendly," adds design manager Ali Gallaher. "We test every idea ourselves a few months before we release it to the world. We prefer to launch fewer products, but make sure they are spot on," he says enthusiastically.
Ali describes the Vitamin creations as everyday objects with a surprising element, which puts the attentionful viewer in the wrong direction. "That element of visual satisfaction or pleasure is indeed one of our absolute challenges. In fact, we want to lift the lives of our customers to a higher level. Create a totally different view and tension field that captures the public's attention."
Pitch pendant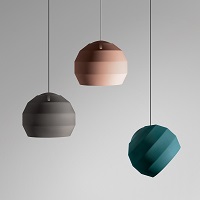 A great example of this aesthetic trompe-l'oeil or visual deception is the Pitch pendant. "A design that involves a playful and aesthetic interaction with our target audience and also makes a statement against the often static light world, " explains Ali. "Thanks to different colour variations and annular levels, you get a nice circular light that plays an exciting shadow game. A true best seller for which we also received an award."
Innovative is also the Ninety Stool, which is characterized by a well-considered aesthetic. "We paid special attention to the footrest, a part that is often overlooked. Ergonomic studies show that the ideal footrest is twenty to thirty cm above the ground. Through the aid of CNC machining the foot rest blends elegantly from the upright at 90 degrees. The variable footrest height allows each user to choose their perfect position. This stool is available in both ash and oak in a variety of colours. "
Shadow on the wall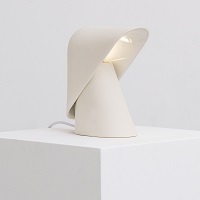 A third Vitamin eye catcher is the K lamp. "The K lamps consists of two parts - a shade that acts as a diffuser and a base that houses the lamp. Thanks to the interaction of the two solid ceramic shapes, there is a remarkable silhouette. The led light enables the K lamp to be used both in a living and work environment. It is handmade and assembled in Stoke-on-Trent, an area known for its high-level British ceramic quality. The lamp is available both in terracotta and pottery and in different colours. "
All those beautiful designs bubble out of the creative spirits of thirty employees who each contribute their part. "Everyone is engaged to think about new products and designs. Such a team approach with a focus on ease of use and comfort is very important to us. Large egos are not welcome because they only work paralyzing and inhibit the creative process. "
Sustainable investment
Vitamin scores across countries and continental borders: Canada, Russia, USA, Poland, Portugal, ... In all corners of the world the products from the London East End have passionate fans. Ali does not have to think long to explain this success. "The simplicity and timelessness of Vitamin are above every trend. The 'less is more' philosophy speaks to people. Because they pay a lot of money for our products, they want to invest sustainably and go for long term value. Makes sense, no? "
After twenty years, Vitamin still has the wind in the sails. However, the Brexit casts a shadow over the economic future. "Aaagh, the Brexit ...", Ali sighs. "We do not know what's ahead of us, so we do not want to worry too much about it. The chance is real that we are forced to raise our prices, but for now nothing is clear. As long as we do not lose our no-nonsense mentality and design pleasure, we'll keep our head above water, "Ali Gallaher assures us from across the Channel.
Vitamin products available in the shop here.