Jaswig tells the story of six young friends, each with their own academic background, who together traveled the world and decided to start an innovative company.
The ideal scenario for a positive version of Trainspotting. The boys ànd girl of Jaswig challenge established values in their own way ​​by focusing on local, ecological and social entrepreneurship. Their first product is a functional and aesthetical wooden standup desk.

When Mathias Ellegiers is living and working in Cleveland, USA, his girlfriend starts to have back problems. A doctor advises her to henceforth work at a standing desk. Engineer Mathias makes a rough draft outline of a height adjustable desk. He wants to test whether he can sell this product in the US. Shortly after, he visits his Belgian friends, who are happy to jump on the bandwagon.
An instant hit, according to the Kickstarter crowdfunding campaign the young designers launched in the US. They aimed to pick up 50,000 euro in one month, but achieved to reach 74,000 euro. "We had an extensive network and were lucky that the media jumped on our story. Especially with the promotion of standup desks for classrooms we hit a sensitive nerve. This start capital enabled us to increase the production at a lower cost, "explains Jaswig member John Galeyn.

The standup revolution: at home, school, work ...

The ambition of Jaswig is big, very big. "We basically want to unleash a 'standup revolution' with a standup desk at home, at school and in the work environment. That is how we respond to the increasing focus on ergonomics, which stimulates to exercise more and not to sit in your chair all day. In that respect, our mission is twofold: to convince people to sit less and buy our products."
Winning the Public Prize during the recent Henry Van de Velde Awards proves that Jaswig is on the right track.

In the first place, Jaswig wants to make a product that offers added value. Both in terms of social, environmental and local economy. "For us it is not only the balance sheet that matters. Nature conservation and local entrepreneurship are equally important. If we travel together, we do so with respect for nature and the local population. Those values are in our DNA."

And it is not just words. Production is kept local as much as possiblel, transport is organised overland and even by bicycle. "For delivery in the larger Flemish cities, we call on the services of bike messenger Bubble Post. That is no problem with the flat packs we have developed to package our products. The production takes place respectively in Menen, Belgium and Cleveland, US for the European and American market. That is how we guarantee fast deliveries."

The Test Cube idea also fits within this authentic entrepreneurship context. They offer schools and businesses the opportunity to test their products for a certain period, without obligation to purchase. "We work and think more like a real start-up with plenty of room for innovation and improvisation," it sounds.

Simple - Social - Responsible

Jaswig highlights the basic values Simplicity, Community and Responsibility on their website. Metaphors for the new business? "Especially the 'community' and 'responsibility' factor is very important to us. It is not our main goal to make a lot of money. But to offer a product with added value, which pays for our living. We feel responsible for this planet. For example, we use water based varnish which is more expensive. This 'environmental' approach is economically not the easiest. But we prefer to opt for a slightly slower growth that in the long term provides a more authentic image. That's why we also put our shoulders under the project One Percent For The Planet, where we donate one percent of our annual sales to a chosen organisation."

The Jaswig future looks both adventurous and challenging. The young designers will continue to build on the 'standup revolution' by pursuing their search of new ergonomic shapes for all possible activities. "Such as the production of a higher seat. For people who are taller, move more and faster. Comparable to the bar stool in a bar."

Logistically, Jaswig is considering a production expansion to Slovenia, because the Eastern European country specialises in plywood products. It fits in the business philosophy of promoting local business and delivering quality products. "We also received a call from Australia to produce locally tables for schools. That will be a good test case for how we can work with local partners."
Discover the Nomad standup desk here.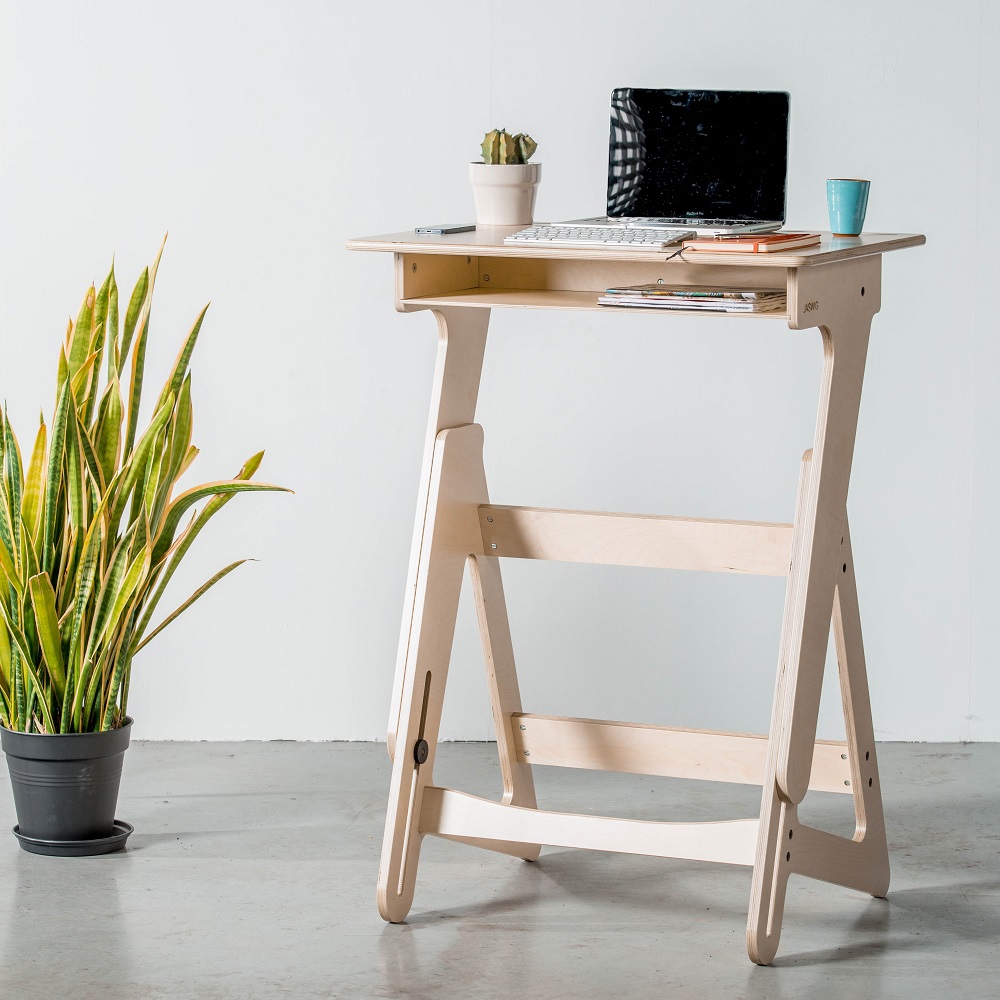 Bewaren
Bewaren
Bewaren
Bewaren
Bewaren
Bewaren
Bewaren
Bewaren
Bewaren
Bewaren
Bewaren
Bewaren
Bewaren
Bewaren
Bewaren
Bewaren
Bewaren
Bewaren